Stops 3.0 contains a brand new user interface, amazing 3D maps (zoom in and 2-finger swipe), and faster ways to create stops and subscribe to people, businesses and smart cities.
Indeed, the word is that "Stops 3.0 is the best geospatial search engine and Augmented Reality cloud on the market."* Now, you get to be the judge of that.
Also in this 3.0 version, we are offering a free upgrade to all of our early adopters to Smart City Creator Studio+, which offers you ways to customize your brand in Augmented Reality and in search engine listings across the platform.
To read about all the new features, continue reading more below….
A brand new interface.
Now, both Android and iOS users can get to all of their major controls in just 1-tap (at the bottom of the screen), with no 'blankety-blank,' side-menu anymore.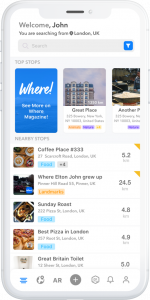 Faster ways to search, filter and spoof your location.
Now you can more easily search for keywords and/or places around you, filter and jump to any other location in the world and see also the stops surrounding it, giving you context for the location.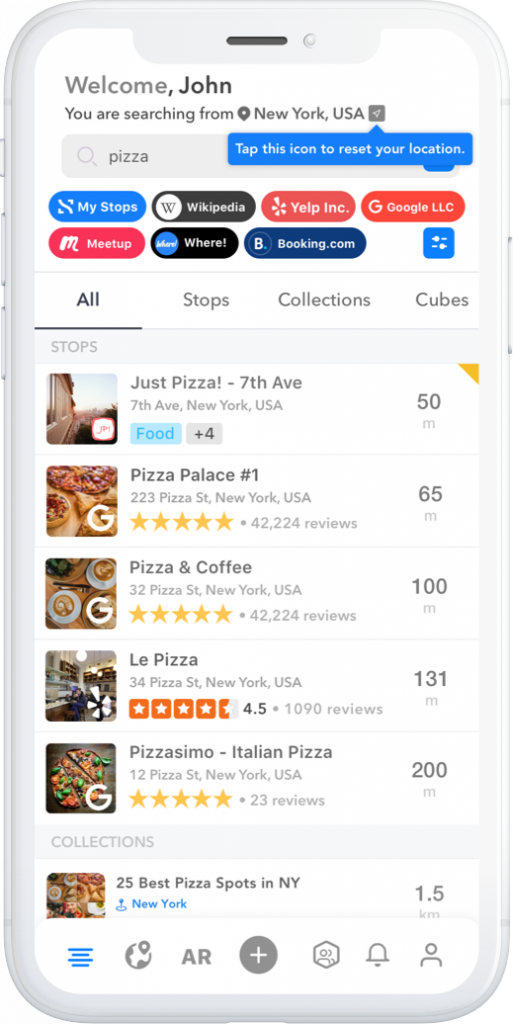 An even faster way to 'create a stop'. Use the + button.
Did you know that you can connect any idea to any 3D location in the world in less than 10 seconds? All you need is a title. When you repeat the process, you're literally creating your own smart city that people can subscribe to.
Create a stop now takes central focus in the product, with the main + in nearly all of the modes serving as a quick way to make your mark on any location.
In 3.0, we've streamlined our "create a stop" flow even more for you now with a smarter bottom panel that let's you attach any cloud document, picture, selfie, link, audio, hashtags and timer to your stop.
Remember, with this feature you can connect any form of digital content to any 3D location in the world. If you allow users to subscribe to you (see Profile Settings), then people who subscribe to you can see your content and locations in their search engine.
A free upgrade to Smart City Creator Studio+. 
We've centralized most of our current and upcoming features in one central place called "My". From your My section you can now access your Liked, Collections, Wall and all of your settings. You'll see buttons and pop-ups for some of our new upcoming features like Addresses, Alerts & Geo-Domains. You'll definitely want to be one of the first to test spin these new products for free, so make sure you click on the blue "Upgrade your account" button after you've logged into the new app. Note also that you can swipe up on this page at anytime to visit your Wall (social page).
Ways to customize your stops and AR experience
When you upgrade to Smart City Creator Studio + for free, you'll see many new Settings features activated for you.
In the Profile Settings area, where there's lots of new privacy controls, just swipe up until you come to the Appearance section. To start customizing, all you have to do is upload any watermark/image that best represents you, your business or brand. In this example, we just uploaded a picture of Captain America and it becomes the default image across Augmented Reality, Maps and search engine results.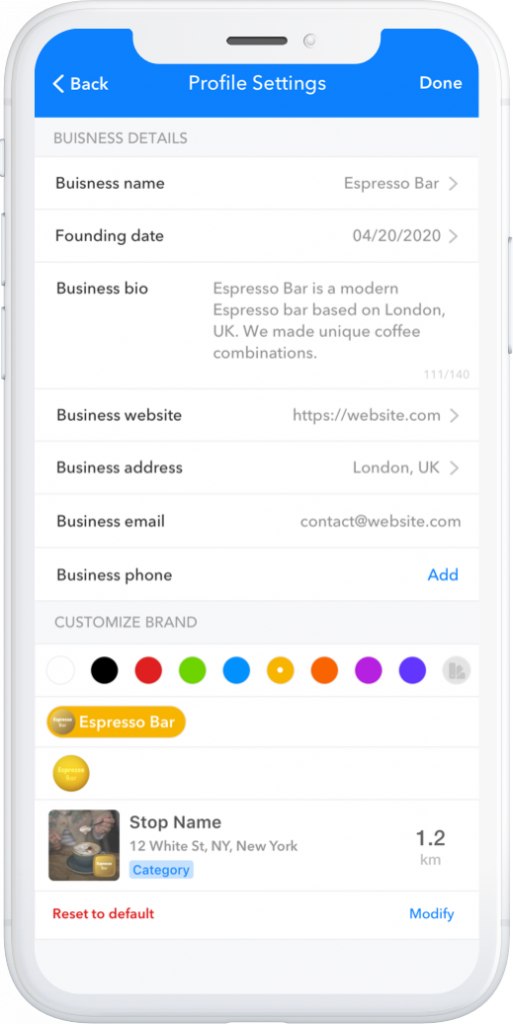 Amazing 3D Maps with 3D stops (in altitude).
On any of our maps, you can pinch and zoom down to a local level. When you swipe up or down with 2 finger you'll find some amazing 3D views of landscapes and buildings. This view also lets you see your stops 'in altitude'. Try it out.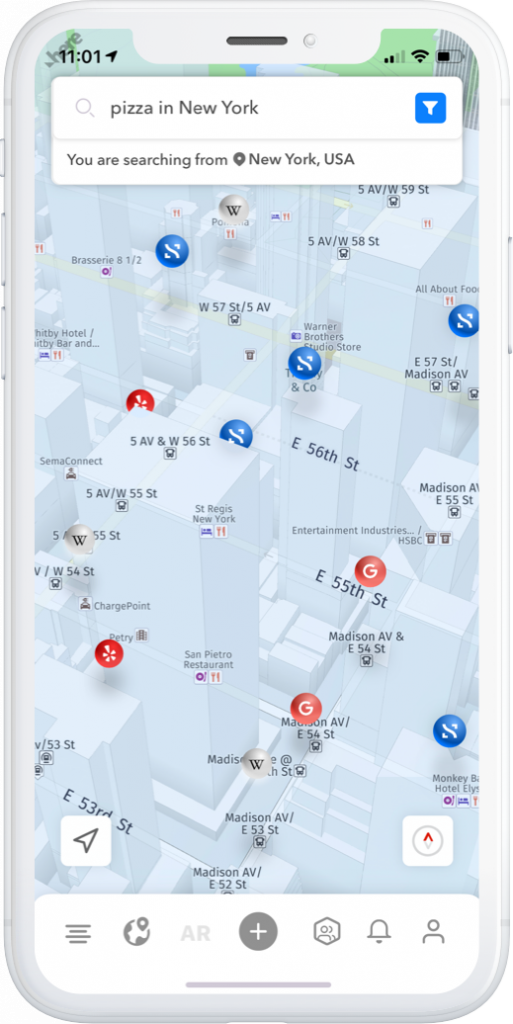 And apart from all of the above, there are faster ways now to create Cubes (messaging groups), create, manage and share Collections and more.
We hope you enjoy this version of the geospatial, GDPR-compliant world we're building here at Stops.
*Quote from new pilot partner, HubLearn.